Allt är skrivet av en tjej på http://www.snarkysweetgossip.com/ och är verkligen läsvärt och kan få dig att ändra din åsikter om henne:
Why I Calmly And Rationally Despise Eleanor Calder
A British women's weekly magazine Stylist saw my Eleanor rant right after she flipped off fans and they were concerned. They asked, "Why do you send tweets like this? Does it make you feel powerful?" And here's my (very long) answer.
No.
I do NOT send her hate. I do not EVER tag her in anything I say because my comments aren't TO her. The ONLY thing I've EVER tweeted her was asking her very politely to tell her followers to stop starving themselves to look like her. I WOULD NEVER send her hate or mean things because it's pointless.
No, I do not feel powerful. I don't feel powerful when her mere existence causes me and my friends to get hundreds or thousands of death threats a day, month, year. The simple fact is that ever since Eleanor showed up out of the blue, hate has been swinging right and left. People tell others to kill, cut, hang, burn, drown, and self-immolate themselves like they're saying 'Hey, I like yours shoes'. It's thoughtless, harmful, and disgusting. And the worst part is, people listen.
Most of this fandom is made up of 10-18 year old girls (now obviously, at 23, I skew higher, but know plenty of people in their 40s who love 1D) and they're young, impressionable, and easily swayed by the voices of their peers–particularly hatred on the internet sent by a gray face, or an egg, or an icon with the face of your favorite idol. Now, obviously, that's just a few examples, and hate can come from anywhere, even your own friends. The bottom line is that they're young girls, most of which already struggle with self-harm, depression, and suicidal thoughts from bullies at school and, sadly, often at home too.
Now, as a teen who struggled with all of these things from bullies at school, I sought refuge on the internet and in fandom (LOST, to be exact) and writing novels. I can't imagine what my life would be like if the place I came to feel safe and loved ended up just being another place people told me I wasn't worthy of being alive. I don't think I could've handled it. I barely survived as it was and it was only due to the incredible, loving, amazing, daily support from these friends, my family in a way, that I even had the strength to see things through to graduation day. None of these children deserve to have that happen to them. And certainly, for the love of God, not over a famous popstar's girlfriend.
I'll tell you calmly and rationally why I do not like Eleanor Calder and wish she would just fade back into obscurity (I'm more-or-less getting my wish because Winter Is Coming but I'd like it to be yesterday, thanks).
The undeniable, irrefutable facts of Eleanor Calder are this:
We know NOTHING about her other than her birthday
We've never heard her speak other than a few seconds-worth of video
She is rude to her own fans and regularly ignores them
She is a college student
She drinks Starbucks on 99% of her dates with her boyfriend
She regularly wears $2/3 thousand-dollar (or pound, as it were, since she's British) clothes no girl without a job or rich parents should ever be able to afford
They look, 99% of the time, to be absolutely, heartbreakingly (not a word, but go with it) miserable with their significant other of over a year
She also cannot properly hold his hand after over a year of dating
A suspicious amount of their couple photos are Photoshopped.
(The top one is the real photo as you can see by the photographer's watermark at the bottom)

(Tell me this doesn't look Photoshopped to you. Just try.)
Her fans call themselves Calderics after her last name of Calder. I call them Calderdicks because 99% of the time they've sought me out, attacked me, told me to kill myself, questioned my sanity, my worth on this planet, and my brain activity — all over a pretty college student who wears nice clothes and dates a popstar.
WHY?
I don't seek them out and attack them for idolizing her. I think it's stupid, and a waste of time, and they're all brainless sheep for loving a girl who doesn't give one absolute fuck about them, and who would rather Harry Styles, an actual member of the band they claim to love, die–like actually cease to exist on this planet–solely so Eleanor can take his place in the band and have Louis all to herself, but I don't outright attack them for it. I do, however, defend myself when necessary–but that doesn't include telling them to die–a fact they're all too eager to put out there.
WHY?
Eleanor herself encourages hate, as seen here, when Louis' best friend Stan went on a rampage for two hours attacking fans. What did Eleanor say, instead of pleading with him to stop the thousands and thousands and thousands of death threats sent in both their names?
It's making my day. Sorry, what? Girls are now harming themselves left and right and contemplating suicide, but it's making you happy? For real? And no one sees what a problem this is? No one at all? Bueller? Bueller?
Eleanor's Calderdicks starve themselves—like, actually, legitimately have pro-anorexic communities DEVOTED to starving themselves to look like her. Yes, I'm being serious. HERE AND HERE are just examples of that. What does she do, knowing legions of her fans are harming themselves to look exactly like the pretty student they adore? Why, she tells them to stop, of course! She makes a passionate plea to all the very young 5-18 year old girls who look up to her for some unfathomable reason and tells them that they're strong, and beautiful, and worthy of love, and most of all: thigh gaps are genetic, and no matter how hard they work at it it's most likely not possible. But that's okay! she tells them, you don't need to be as skinny as me! YOUR WORTH AS A HUMAN BEING IS NOT AND WILL NEVER BE CALCULATED BY HOW MUCH YOU WEIGH.
JUST KIDDING! SHE DOES ABSOLUTELY NOTHING ABOUT IT! BECAUSE SHE DOESN'T CARE ABOUT THEM! YAY YAY HOORAY! (sarcasm)
Obviously, if they're that far descended into their disease that not even saying anything will help, that isn't her responsibility to hold their hand until they do. But it damn sure is her responsibility to say something about it, whether it ends up making them stop or not. Whether she wanted her fansbase (and she clearly hates them) or not, she now is a role model (yuck) for young girls and there IS a responsibility to say something when people are harming themselves. I don't care if you're even a random person on the street, if someone is about to walk into a car or a train you do everything humanly freaking possible to help them. You DON'T just say 'screw it, it's not my responsibility, I don't owe anyone anything, I never wanted this'. It. Does. Not. Work. That. Way. It just doesn't.
In another article I made the statement that NO celebrity is responsible for your own choices, and that is true for things like mobbing them, camping out in front of their hotels/restaurants and generally being terrifying, driving/flying hours to see them. If it's something like this where someone is self-harming or killing or threatening in your name. An average person wouldn't let that stand so why should celebrities?
She even goes so far as to make fun of "fat" girls (which, really, she's a great role model. her fans starve themselves, but yeah, let's go make fun of "fat" girls!!!!!!!!!!). And no, it was not because of the dancing. Why? Because to get this particular video on Youtube you have to search "fat girl Notting Hill 2010″ specifically. If you search "girl twerking" or "fat girl twerking" or even "fat girl Notting Hill" THOUSANDS AND THOUSANDS of videos come up before it. She knew what she was doing and it's disgusting to me.
Last week, she flipped off fans who were yelling out how much they adored and loved her while on a public "shopping trip" with her boyfriend.
Now, mind you these girls and boys weren't yelling for Louis, the actual famous person, they were yelling for Eleanor. No one was being rude (other than asking her and Louis to kiss for them), they were showering her with praise. Why would you flip off your adoring fans? They may be brainless sheep, but they love you (for some godforsaken reason I can't understand), so why hurt them like that? Yes, I understand it must be hell to be mobbed like that, but understand something:
If they wanted the privacy and quiet they could've stayed in their hotel room. I know for a fact that if I was dating Louis Tomlinson and I hadn't seen him in a few days/weeks because he'd been on the other side of the Atlantic Ocean touring with his bandmates, I wouldn't even leave the bed. I just wouldn't. Not for anything. Not for all the Yorkshire Tea in England (haha, seeeee what I did there?). No sane girl (or boy, because yes) would. There's even every possibility that I would tie him to the bed (because we all know he's into that, oops). I mean, have you seen Louis Tomlinson's body?
(the glasses are Photoshopped because we miss 2010 Fringe Louis With Glasses)
(There's even a Louis Tomlinson Fringe Withdrawal Support Group on Tumblr)
(his reaction Monday night when a fan flashed him)
("It was like the most sexually-charged nose-graze in the history of noze-grazes" – Seth Cohen)
((if that is not the sexiest look you've ever seen I don't know what to tell you because it is and you're just wrong))
Wanna see it again? (of course you do)
((I'm whimpering. Help.))
(Sorry I get carried away by how pretty and beautiful and flawless he is) What's that? Am I crying? What!? No! No, I'm not crying, there's just an overabundance of FEELINGS SO MANY FEELINGS in my eye. I am not crying. I'm just not.)
So, yes, back to my point. No sane person in the whole entire world would give that up for any freaking reason on this entire planet and maybe in this entire galaxy and you're absolutely nuts if you say you would. I don't care who you are or what your gender is you would bang him like a screen door in a hurricane and I do not accept your lies as reality.
(sorry I'll shut up about that now)
But the fact is, she did go out in public with him, and then she flipped off her adoring fans for it. Like an idiot. And I do not respect that. She would be no one without those two-million idiots who love her so much. In fact, I really, really don't think anyone should even know her name. She's "famous" for no reason. She isn't a singer, dancer, actor, model, artist, political figure, doctor, nurse, or author. She's just a college student who drinks Starbucks? Why does she get so much press and attention and adoration?
Ed Sheeran just revealed he just got out of a NINE MONTH relationship and no one had a CLUE, so ANY time Louis or Eleanor or any of their friends or fans try to say they want things to be public, but continue to parade around like this, you'll know it's crap. If they wanted their relationship private it would be private regardless of how big of a celebrity he may be.
And, finally, I won't go into the fact that her existence has caused the most disgusting, hateful, horrifying, regressive homophobia in fans whose ages run from 3 to 23. This is 2013 and America is on its way, glacially slowly, into accepting homosexuality and it (homophobia) usually isn't tolerated in "famous" figures, so why is it okay for many members of the media and her fanbase to encourage it? 11 of my Larry Stylinson family has died because of the hate her existence breeds, two of which committed suicide last night. I just want her to leave my family and friends and the boys I love alone.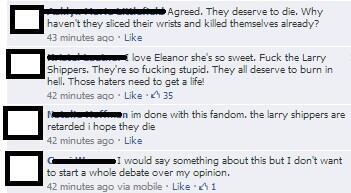 This is why I stand by my original post: She's classless, mean, disrespectful, and famous for doing absolutely nothing (but causing misery wherever she goes). After I've explained all of this, please tell me why I need to respect someone who so obviously does not respect other people, especially her fans? Why? Because she's beautiful? Because you envy the life she has? Because she drinks Starbucks, wears pretty clothes, and dates a popstar? Because she's a mean, tasteless, tactless, bully who doesn't care that people are responsible for BULLYING OTHER PEOPLE TO DEATH in her name? Is that a good enough reason to respect someone? Hmmm? Is it? Would you respect anyone else in life who did these things? Would you?
Think about that.
RESPECT. IS. EARNED. PERIOD.